Advanced home automation
Audire is a recognized in France an abroad as a true expert in home and institutional automation technology.
Home automation is basically an interface that makes it easier to command and use smart home devices. A simple touch screen or remote control are used to generate light, control window shades and shutters, broadcast your favorite music, select a film from your personal digital library, and with a simple touch turn off and secure your home when you leave. Audire aims to integrate state-of-the-art smart home applications that are very easy to use.
Lighting management is a primary smart home technology. In your living room or bedroom, a simple touch on your tablet or wall-mounted remote control calls up a lighting scenario to create a predefined lighting environment. Window shutters can be opened together or separately, and shutters position themselves automatically depending on the intensity of incoming light. When you're out, the system can be set to simulate your presence intelligently, contributing actively to your security.
Adjust your air conditioning at the touch of a button or use the intercom function of your wall-mounted remote to friends and family easily. Your smart home system adapts to every parameter of your lifestyle instantaneously.
Call up a favorite piece of music or radio station, broadcast a range of TV stations for each occupant, share your digital film library on every screen in the house, control every feature from a single easy-to-use remote control, from your digital tablet, or both!
Some examples
Controlled lighting: Mounted on the wall by the bedroom door, the left-hand buttons of the touchpad open and close interior blackout curtains, while the right-hand buttons control the general or ambiance lighting of the bedroom: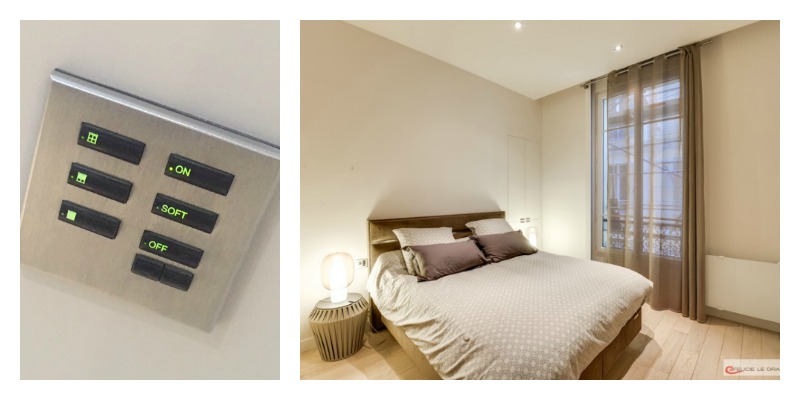 Controlled lighting: Dynamic or soft lighting scenarios for the bathroom (Le Strato Hotel):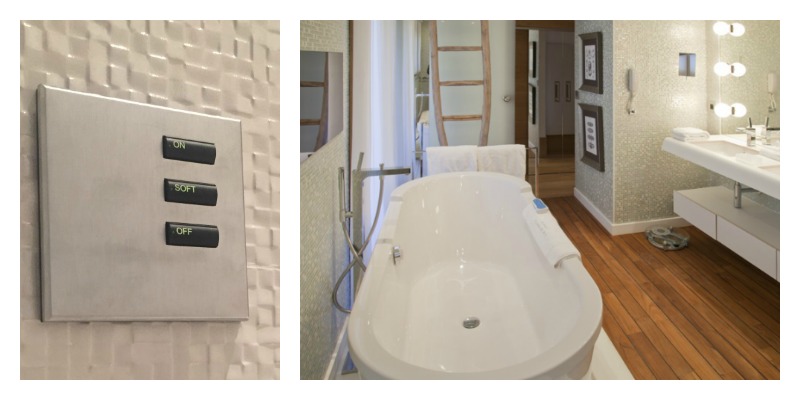 This fine controlled lighting system creates a soft lighting environment at the touch of a button,
while economically managing energy consumption. There's nothing like it!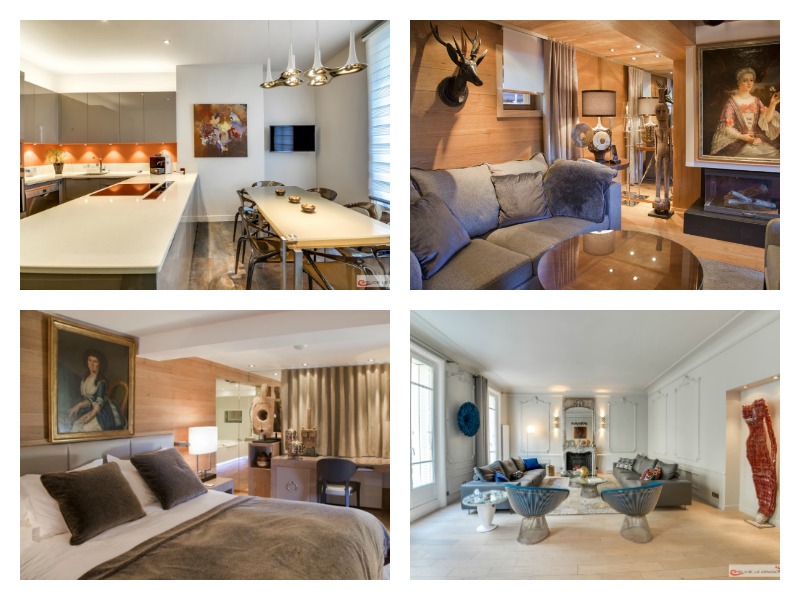 Examples of Creston wall-mounted keypad interfaces:
In every room, a single touchpad is used to control shutters, air conditioning, lighting, TV, film server, Blu-ray, Apple TV, PC, iPod, radio tuners, music servers, etc. Smart home technology allows you to manage your home with a single, homogenous system that interfaces seamlessly with technical systems to bring you incomparable comfort. To put it simply, you can easily interface with our excellent intelligent home systems with user-friendly manufacturer devices or a personal digital tablet (iPad, Android).

Examples of RTI smart remote control interfaces: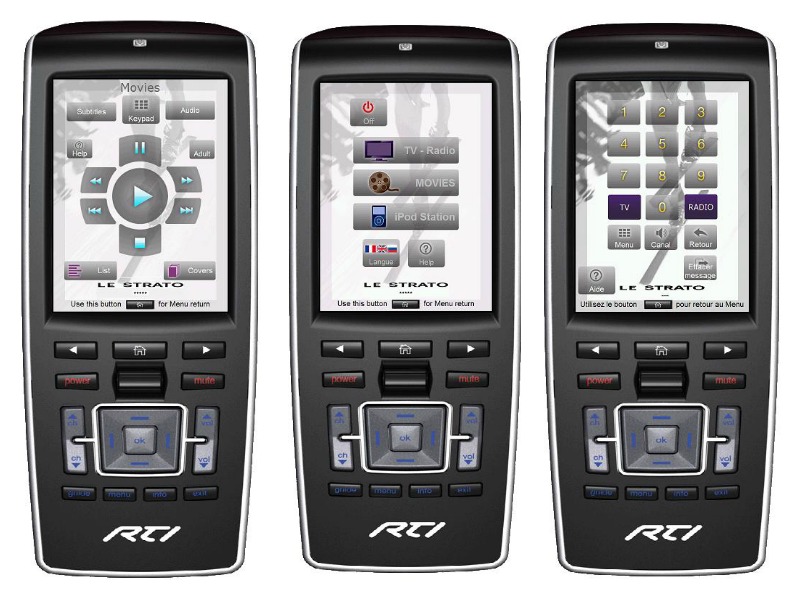 Advanced automation
In order to always offer you the best service in home and institutional automation technology we continuously refresh our knowledge base. We have been certified for years in :
Automation : Crestron Level
Lighting Control : Crestron Lighting Control , Lutron Homeworks
Multiroom-Audio : Crestron, Naim-net, Nuvo Technologies, Russound